Fashion
Everything You Need to Know About This Hairdo
Cornrows are a wonderful African braid. Not only is it gorgeous, it's also versatile enough to be manipulated into different variations such as: inn (updo), zigzag, diddy, ghana weave, stitch braid and more.
Speaking of stitch braids, this is a type of cornrow that uses the feed-in technique. It is more complex than other cornrow braids and has a different and stylish look.
If you need a break from your usual cornrows, try this hairstyle. But before we get into it, let's take a look at everything you need to know about stitched cornrows.
What is special about Stitch Braid?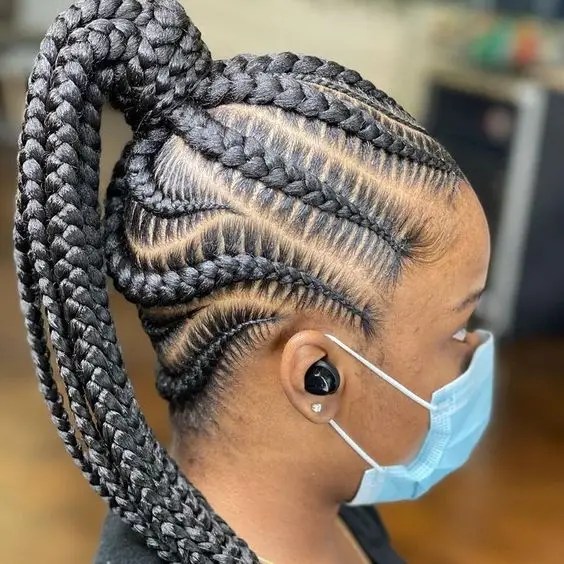 This hairstyle involves inserting extensions into each cornrow. However, it differs from other feed-in styles. Because there is an intentional space and dividing line between each cornrow. That's one of the special things.
To achieve this hairstyle, the hairdresser divides the hair into thin or thick horizontal lines. Next, while braiding the horizontal lines into the cornrow, add more extensions to increase the size of each braid.
This hairstyle became popular in 2016, but its history dates back to the origin of the braid as a whole. And now, it's one of those hair trends that won't go away anytime soon.
How long do stitch braids last?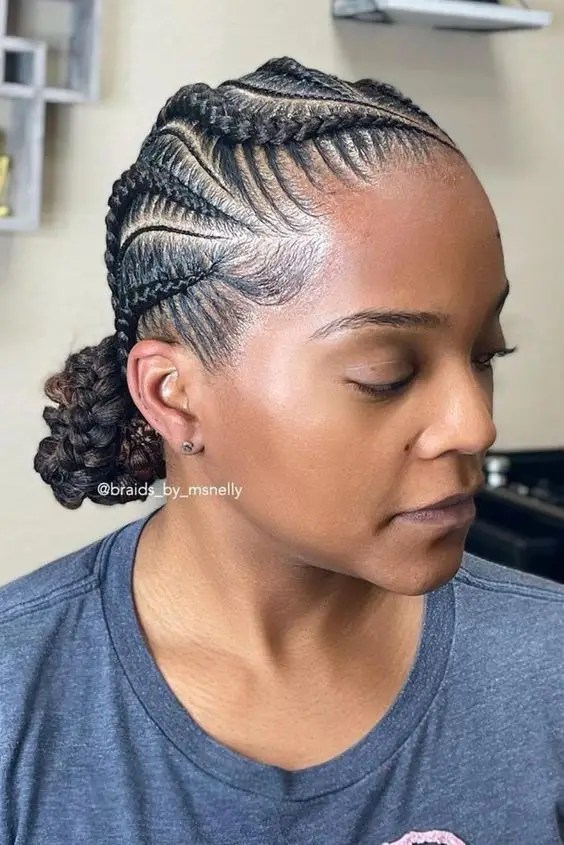 This depends on how well you stitch cornrows and your care. hair texture. For example, if your hair is relaxed, your braid will last about 6-8 weeks. But if you are a naturalist, your hair will shrink more, so it should last 3-6 weeks.
One reason for this is that stitch braids tend to unravel quickly with some hair textures. However, you can make it last longer by moisturizing, shampooing, drying, and wearing a silk scarf or bonnet to keep it moist.
What is the difference between stitch braid and regular cornrows?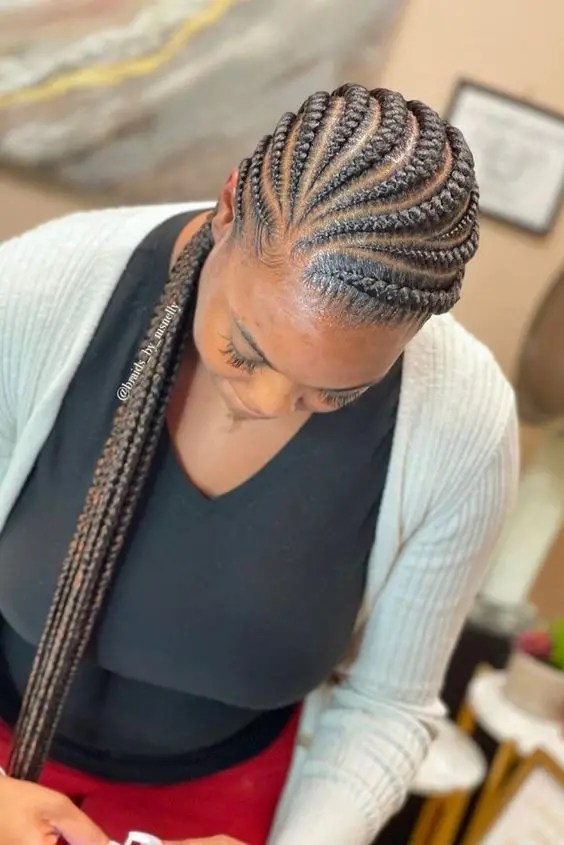 Stitch braids and traditional cornrows are similar but different. First, stitched cornrows have a space that is stitched or divided around each cornrow. Also, unlike regular cornrows, the feed-in technique is used just like Ghana weave and knotless braids.
In addition, Stasha M. Harris as a celebrity stylist, refinery 29:
"For a normal feed-in braid, I use my index and middle fingers and the Shine and Jam Conditioning Gel to achieve the look. Instead, it requires more use of the product to keep the stitches in place."

Stasha M. Harris
What do I need to install a stitch blade?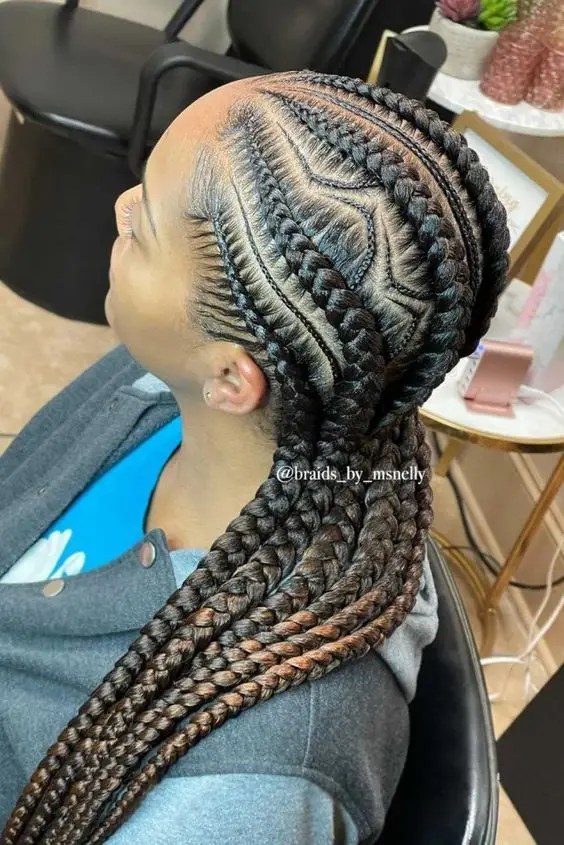 First, you need to prepare your hair for this hairstyle. This includes shampooing, conditioning, combing and blow drying.
Once that settles in, you'll need about 2 packs of stretched or regular attachment extensions. The amount of hair extensions you use for this hairstyle depends on the density and length you want to achieve.
Your hairstylist will provide everything you need for this braid, from rubber bands to combs to hair wax to edge controls. However, if you choose to decorate your hair with hair accessories, it is best to go to the salon with them.
How to install the stitch blade?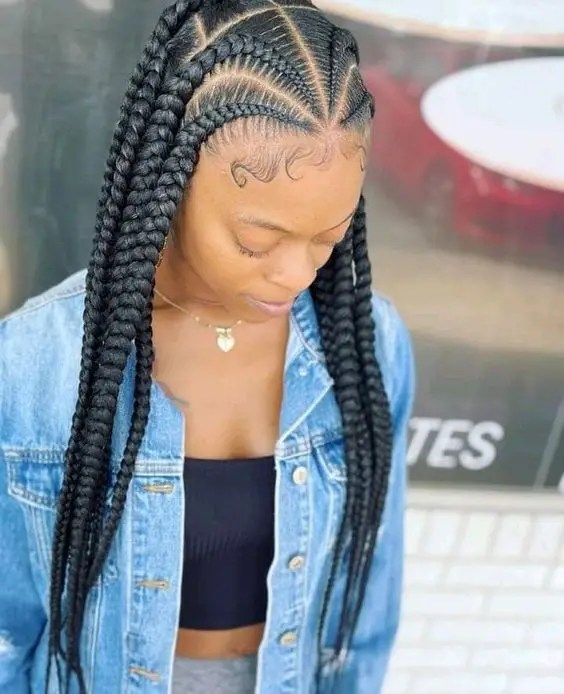 This hairstyle can be achieved with one of the following techniques:
rubber band technique
Comb/finger technique.
Photos and videos are more detailed, so watch these videos to see how you can achieve this hairstyle using either of both techniques.
Comb/finger technique
rubber band technique
Beautiful stitch braid styles to inspire you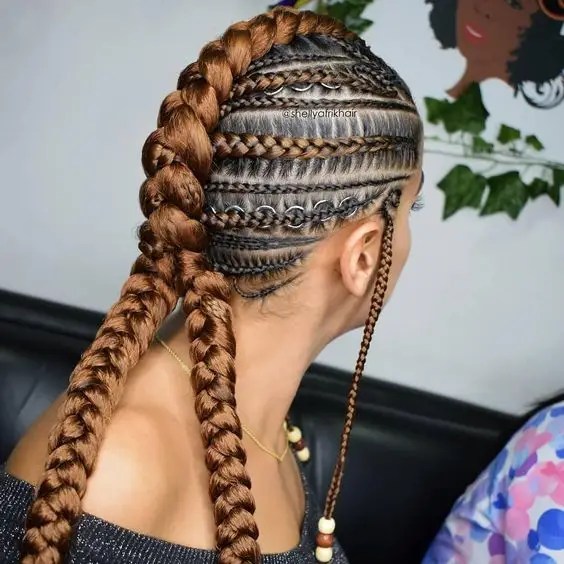 Once you have the necessary knowledge about this hairstyle, let's get down to the styles available.
stitch up hair/ponytail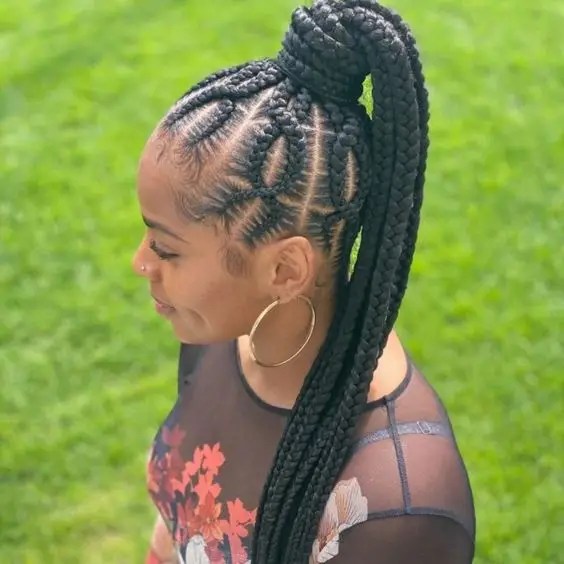 Instead of installing the usual inn If your hairstyle is made with Ghana weave or regular cornrow weaving techniques, stitch updos to give your hair a lift.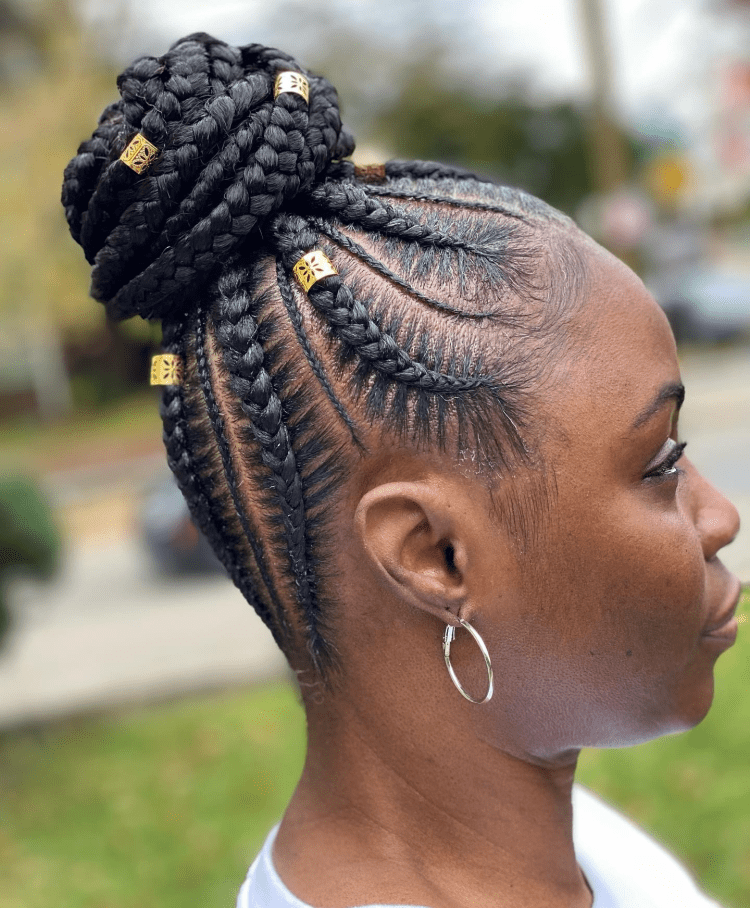 It can be rolled into a bun or loose like a braided ponytail. Either way it looks delicious.
all back stitch braid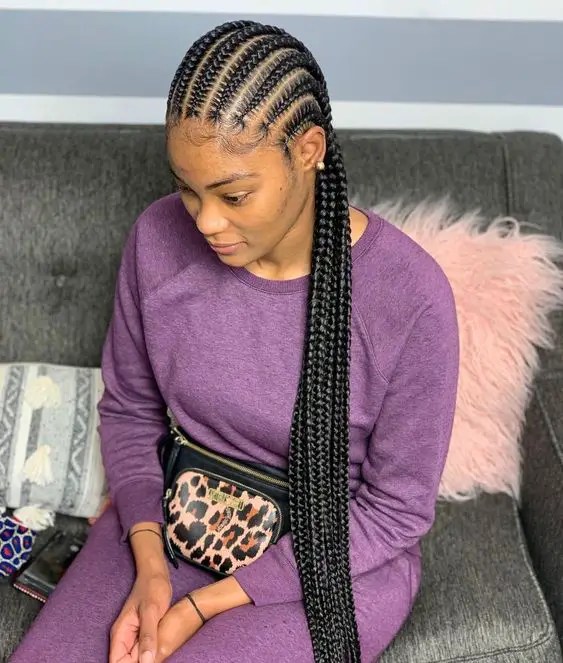 This is the same as regular cornrows. Straight stitching all the way to the back.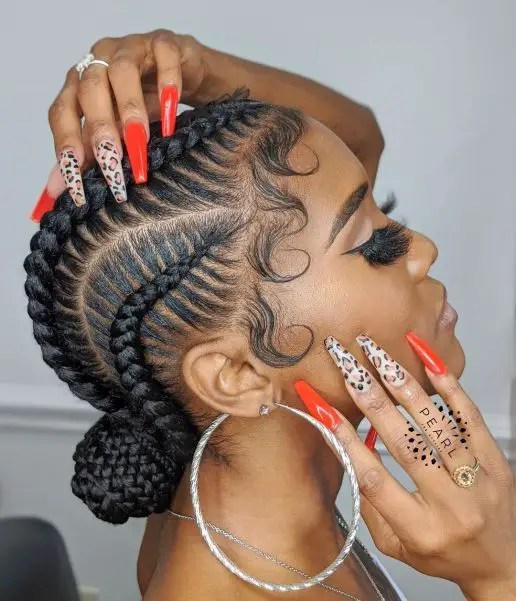 If you want something minimalist yet chic, this is the one for you. You can also add bread for better effect.
Micro and medium stitch braids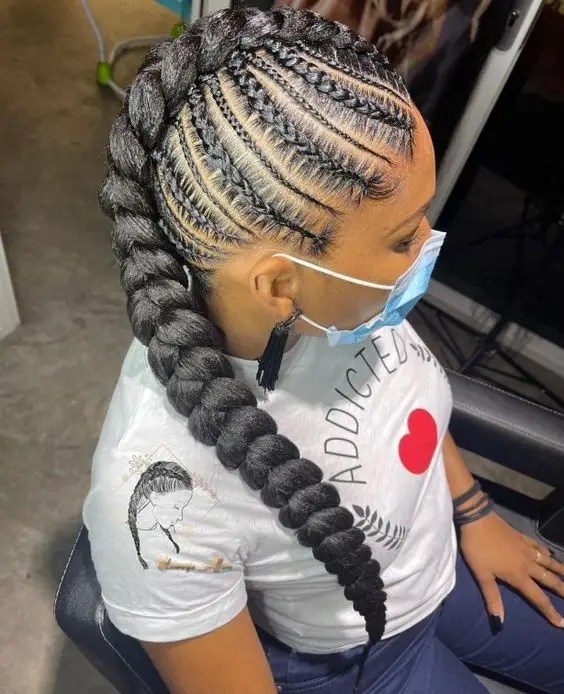 I love this style because it adds more deet to the hair. This is a popular stitched hairstyle that will surely get compliments if you rock it.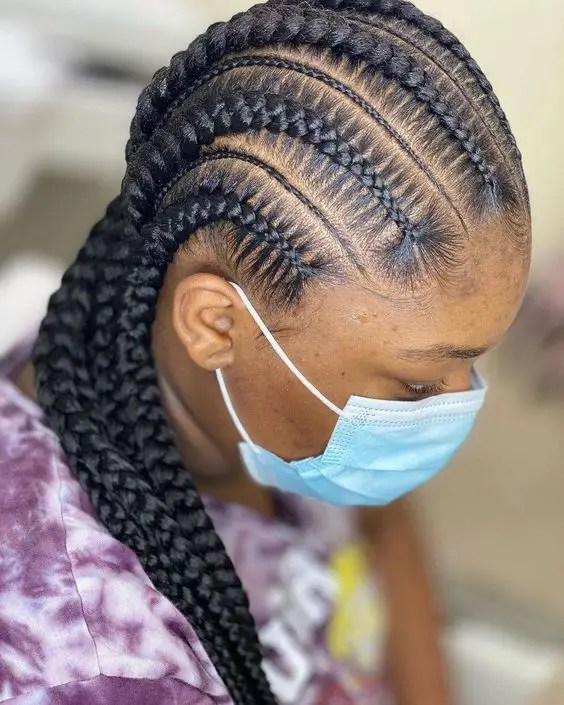 It involves creating both micro and medium braids to add more width to your hair. That is, the hairstylist will have one braid in mini, one in medium, or vice versa.
small stitch braid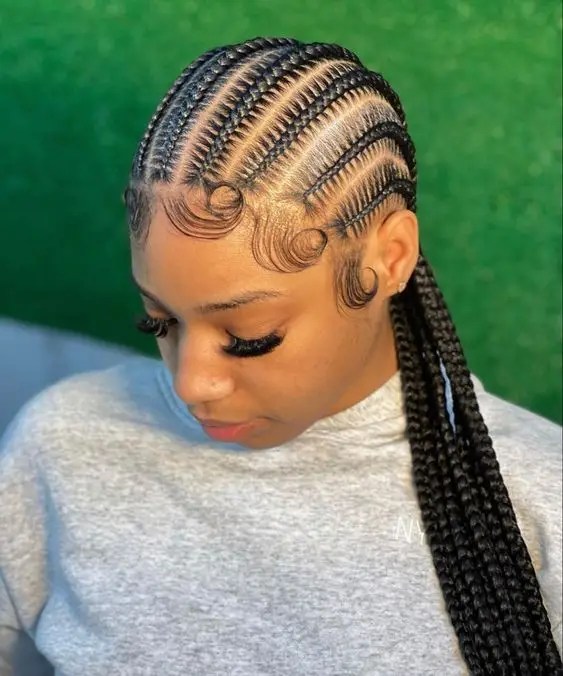 As the name suggests, it is a style in which the hair is braided into thin cornrows.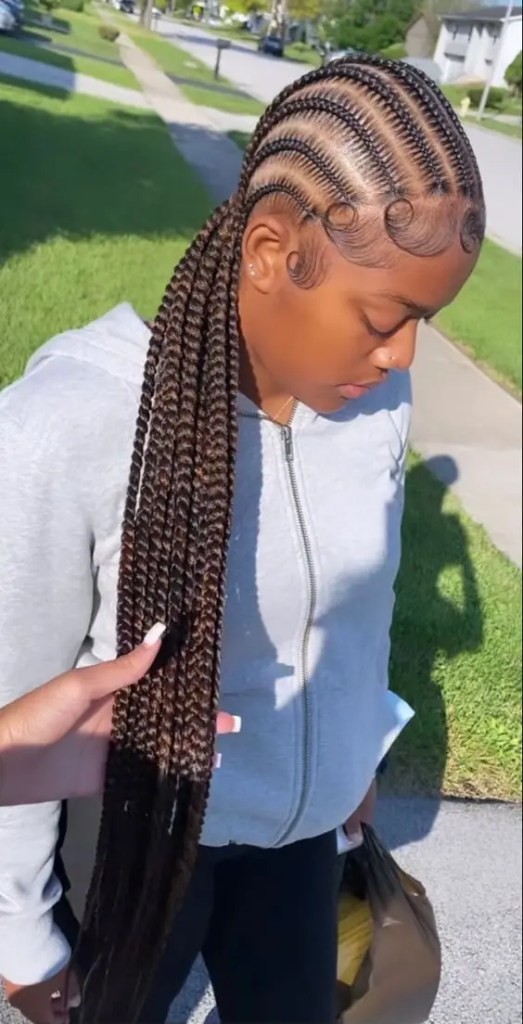 It looks stylish, but if your natural hair is really thick, it can take longer.
cross stitch cornrows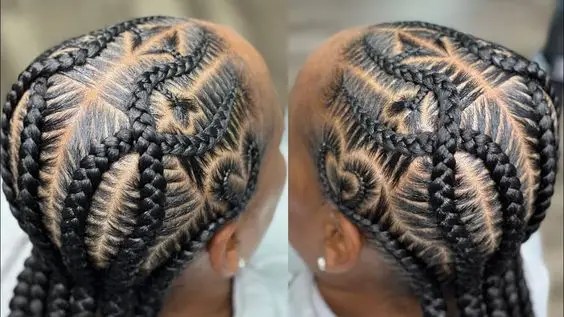 In this style, braids are crossed over each other to create any shape.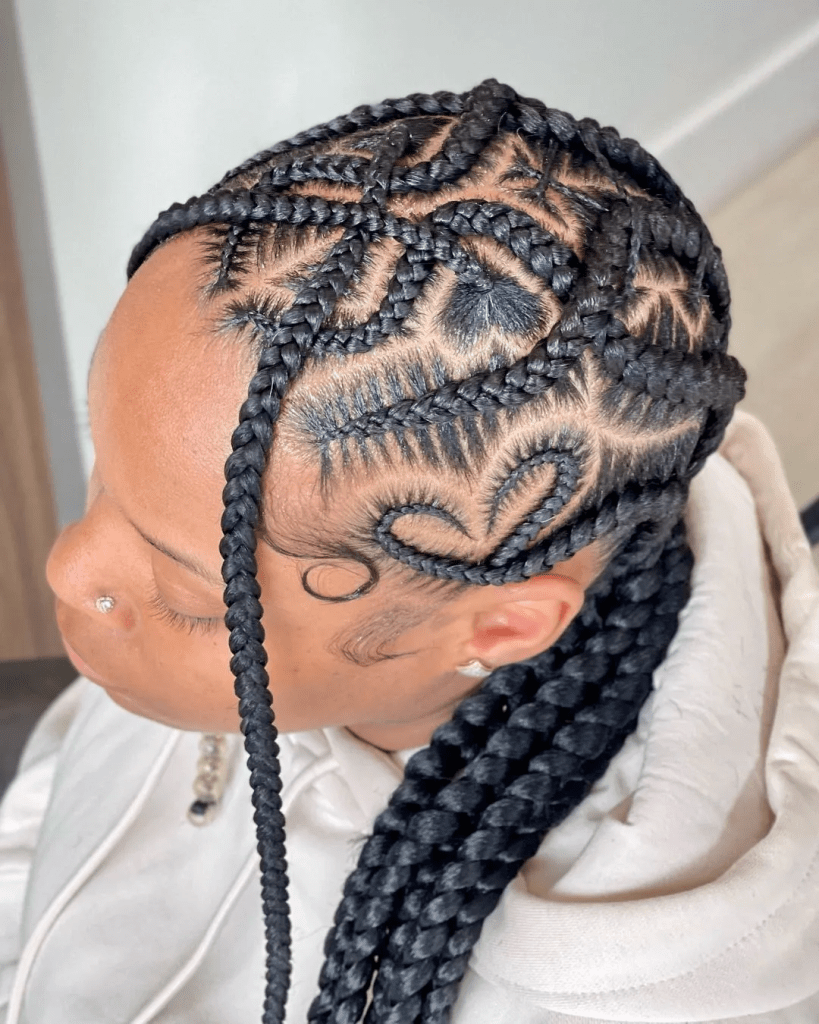 Choose this if you want to stand out with your hair.
zigzag
Similar to the style above, this hairstyle braids the hair in a zigzag.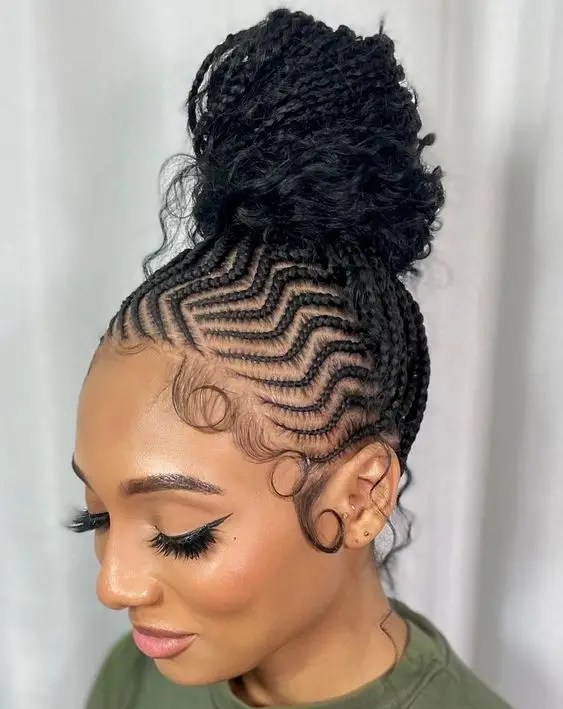 It may be due to the parting or the braid itself.
curly stitch braids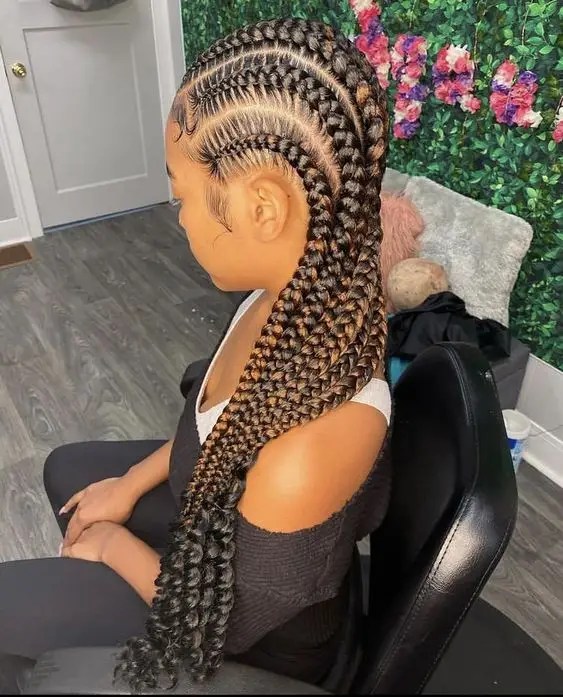 Curly hair is an expression of style in itself. So let's curl the braid to give it more edge.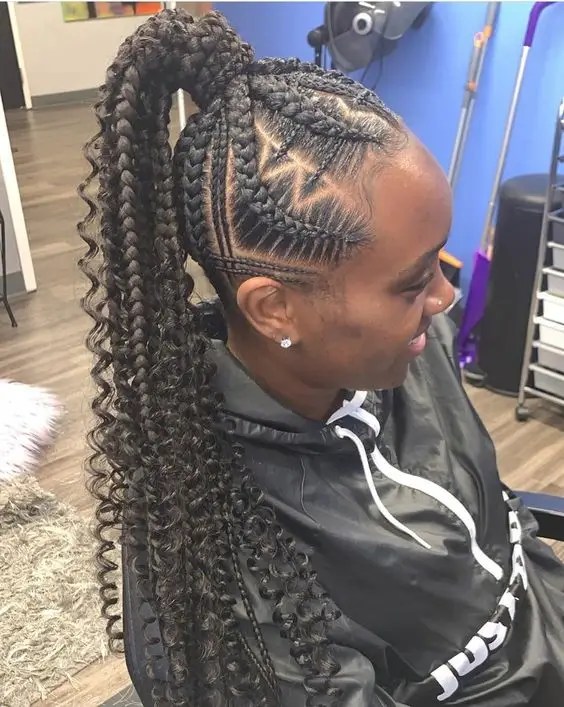 To do this, curl the tip or attach curly extensions to the braid.
braid with colorful stitches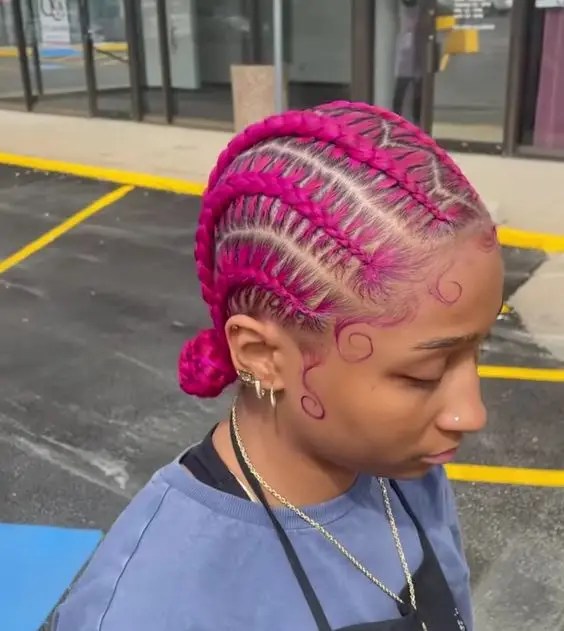 How about using bright colored extensions for this hairstyle? It can be pink, blue, green, purple, maroon, blonde or any color that suits you. You can even mix the two colors together for a better effect.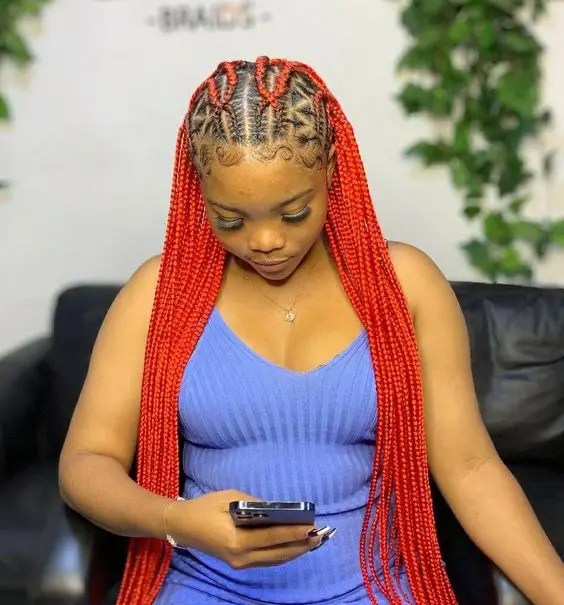 Beyond the usual black or brown extensions, they are sure to add more thrills to your hair.
Mohican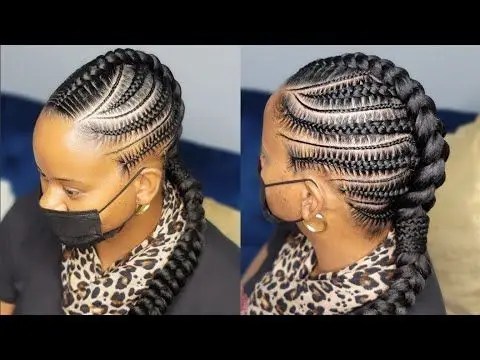 Yes, we can make mohawk knitting if you want. It's a unique look that not every woman tries.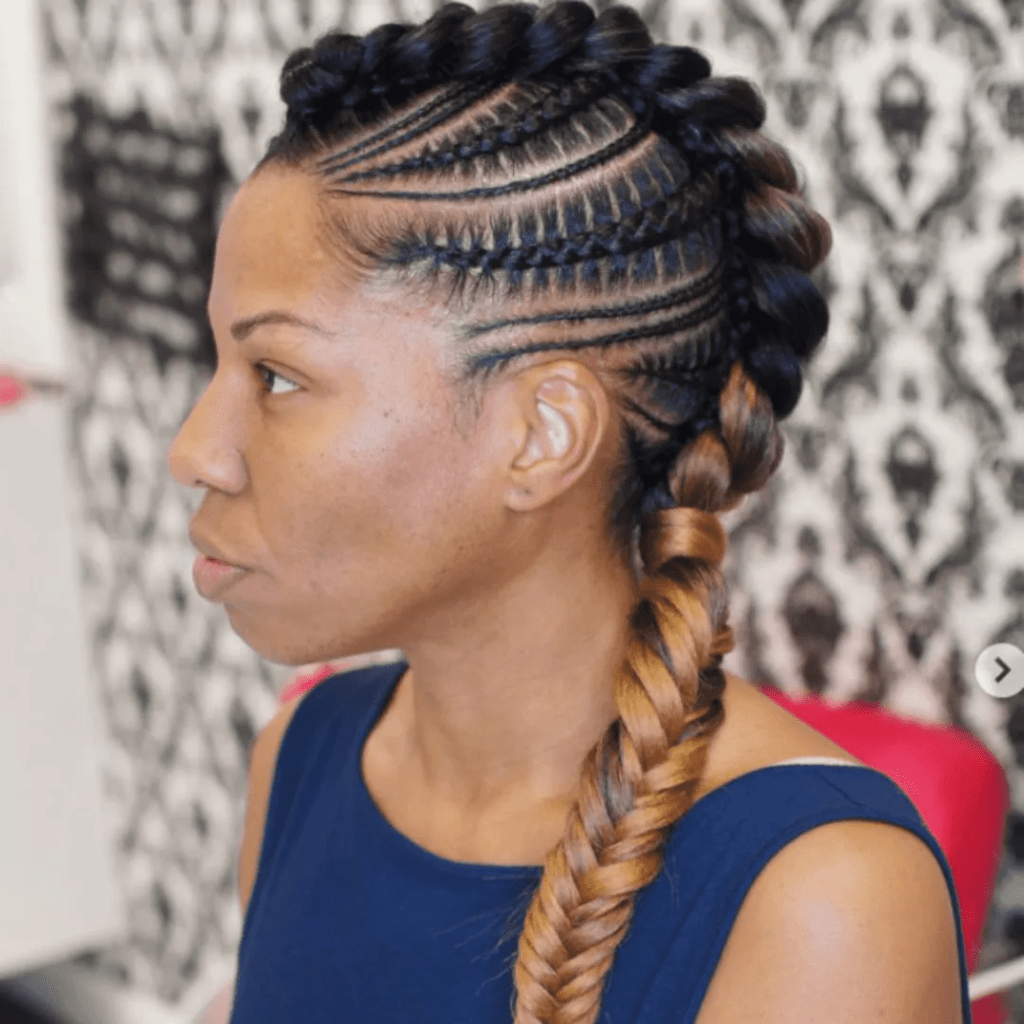 If you're looking for something that's worth making a statement yet comfortable, go for it.
Short/shoulder length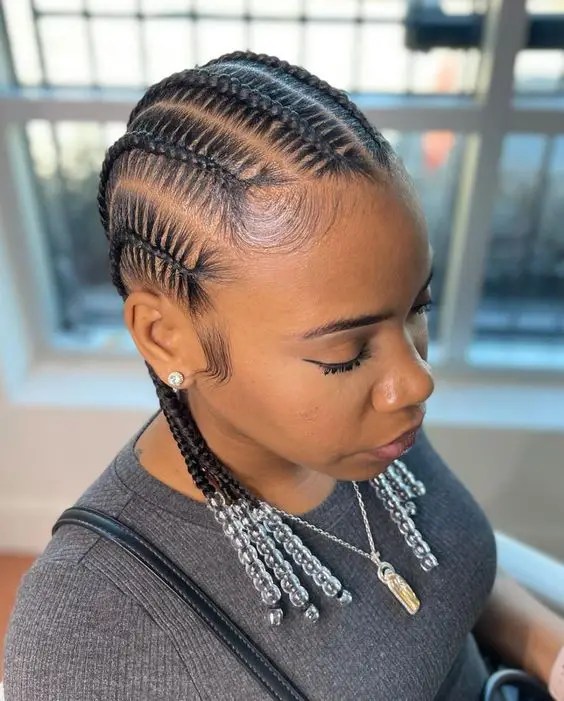 Need something that doesn't consume multiple packs of hair extensions? This is the hairstyle for you.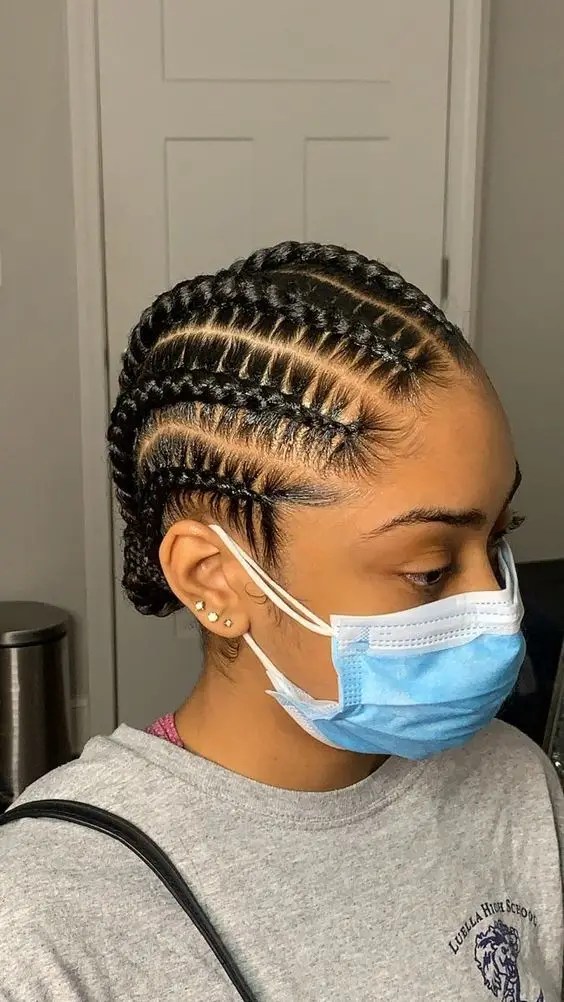 The best part is that you don't have to worry about your hair getting in the way when you sleep or during activities.
long stitch cornrows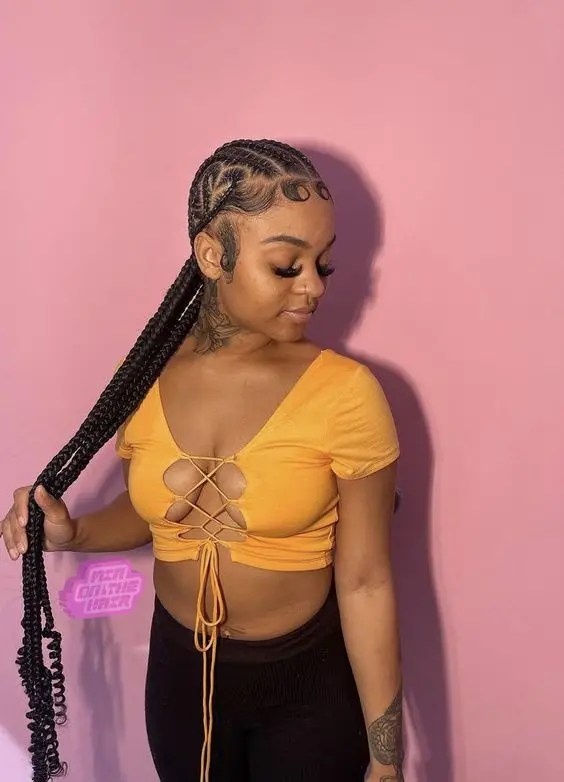 Long hairstyles have a way of attracting attention to you. Especially the way the braids sway on her back when she moves attracts attention.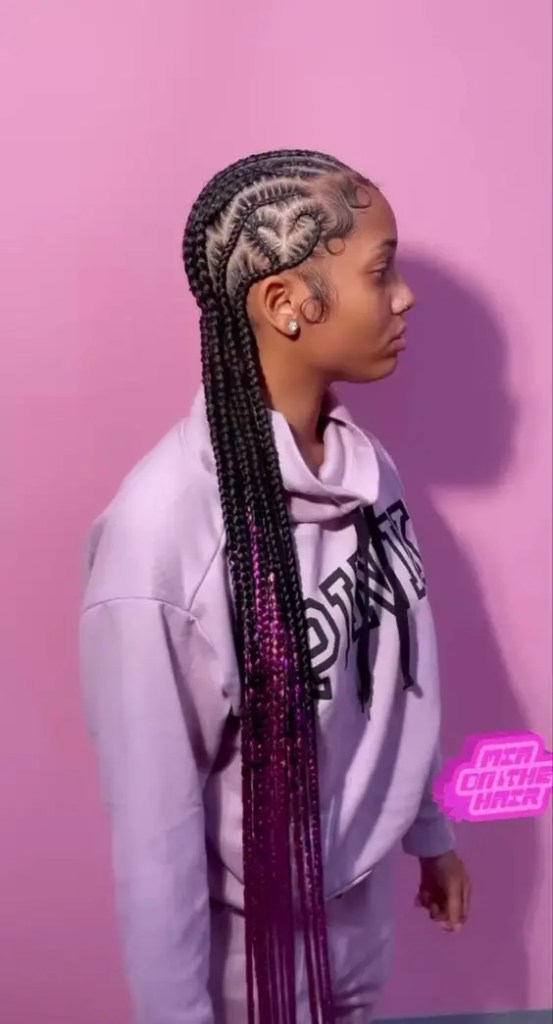 If you want to get everyone's attention, we recommend this style. Have your hair extensions ready, as you'll need multiple packs to get the length you want.
braids with accessories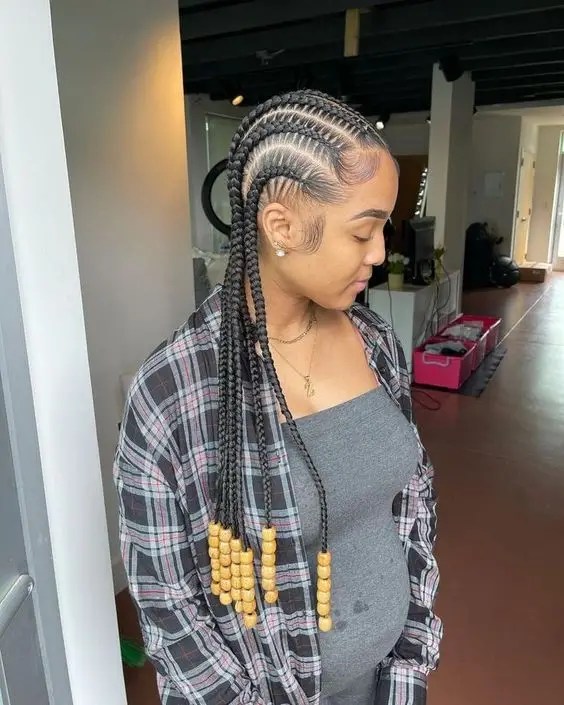 Hair accessories are small add-ons that are sure to complement your hairstyle.
From scrunchies to beads, cuffs, headbands, scarves, hair clips, barrettes and more, you'll need at least one of these accessories to power up your stitched braids even more.
others
It's not over yet. yes. These are more stitch braid styles for you. Scroll down to view.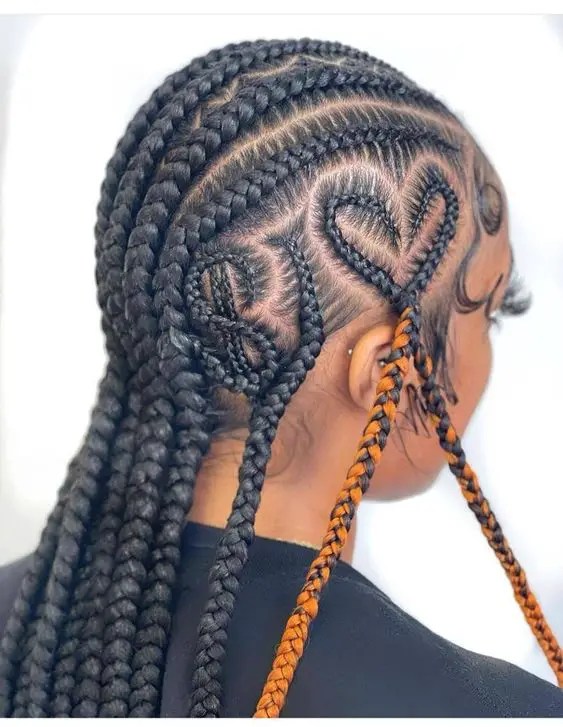 get more
Want to read more interesting stories to help you dress up better?
Subscribe to our free weekly newsletter now.
2
Related