Fashion
30 Beautiful Tribal Braids Style You Should Try in 2023
Besides accessories, if there's one thing that makes your look stand out, it's your hair. Sometimes you get tired of wearing wigs and want to opt for a simple yet unique look. If you're looking for the best way to stand out in any room, tribal braids have you covered.
These braids have roots african culture, native to West Africa. We have a variety of unique styles and patterns. And today they are one of those hairstyles that can make anyone stop and stare at you as you pass by.
I'm sure you are one of those women who loves to look gorgeous all the time. The fact that you are reading this piece is already saying that about you. If you're looking for braids, you can find them all in this post.
Shall we begin?
Origin of tribal braids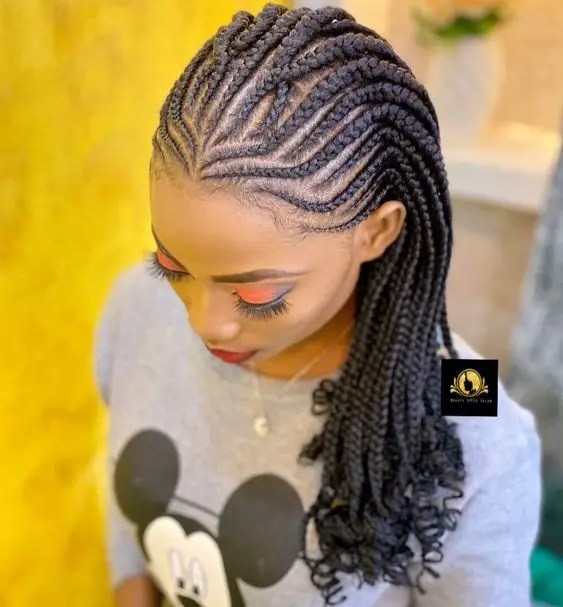 Braiding originated in Africa as a whole and especially with the Himba people of Namibia.It's tempting to note that braids can be traced back 5000 BC – 3500 BC It is still popular with women in the past.
Tribal braids originate specifically from the Fulani people, a region of West Africa. These beautiful braids were one way the Fulani celebrated their culture. They were one way of identifying a tribe. Patterns and styles indicated not only where the indigenous people came from, but also their status, wealth, power and religion.
Moreover, it was also a form of bonding between these people. It took us some time to install, so we took this opportunity to interact and get to know each other better.
At first, it started with the elders braiding the children's hair, while the other children stood and watched and learned the art, then practiced it themselves. It has become a legacy.
In the 1900s, braids became one of the most popular styles around the world. Today, most people from different cultures, men, women and children, braid their hair.
What is the difference between a tribal braid and a box braid?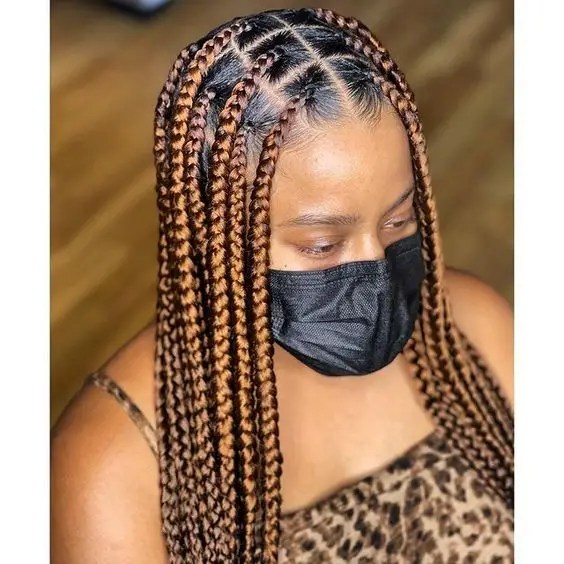 There is not much difference between these hairstyles. This is because box blades are a type of tribal blade.
Box braids are, as the name suggests, shaped like a box.They are square and when installing this hair the hair stylist usually creates a square partition on each braid
One thing to note about this hairstyle is that box braids are best for thick hair. Because if you have thin hair, you can see the scalp. However, if you want to rock this style like a queen, you can use hair extensions to complete the look.
10 unique tribal braid styles for 2023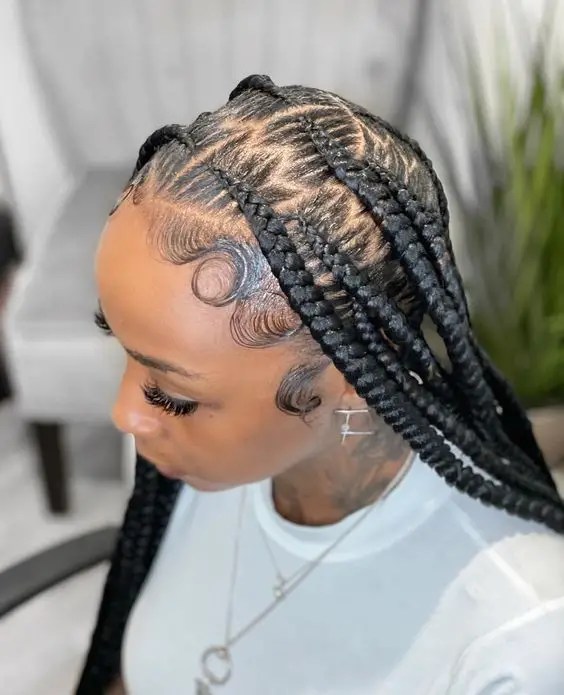 Tribal braids have set a trend among many celebrities.
There are various styles and patterns. And as a woman who knows what she wants, having many tribal braid style ideas gives her more options for subsequent salon visits.
Here are some of the unique styles you might want to consider.
side part braid
This style will make you stand out in any room. Adding blonde highlights will definitely improve the look.
Show this to your stylist when you're ready to start the braiding game
pyramid micro cornrows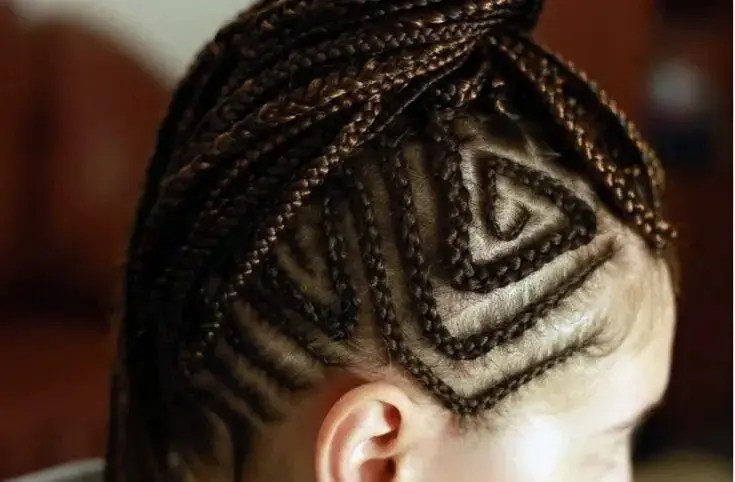 This hairstyle features a spiral triangle design on the sides and a straight back braid on the front and back.
Pyramid tribal braids can be styled as a beautiful ponytail or worn over the shoulder.
classic tribal braids
You can't go wrong with this unique style. One of the things most women love about this cornrow her style is that it's evergreen.
So what better way to spice up your cornrows than by adding some hair extensions and settling for this look?
Teal lemonade braid in ponytail
Ever since Beyoncé rocked this look, the style has become the go-to hair look for those seeking an air of sophistication.
You can call it a makeshift ponytail if you prefer, but it doesn't take away from the elegant look.
Curly Fake Tribal Blaze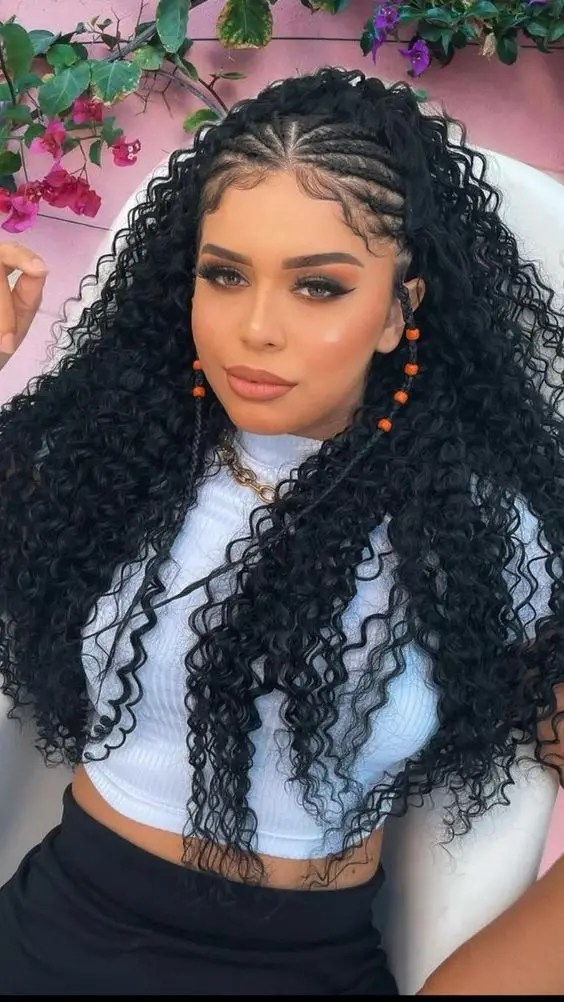 Instead of rocking a curly wig every time, switch up your look and settle on curly braid extensions.
There are so many hairstyle possibilities for this look that you can always style it however you like and still look great.
Two Step Tribal Cornrow Braid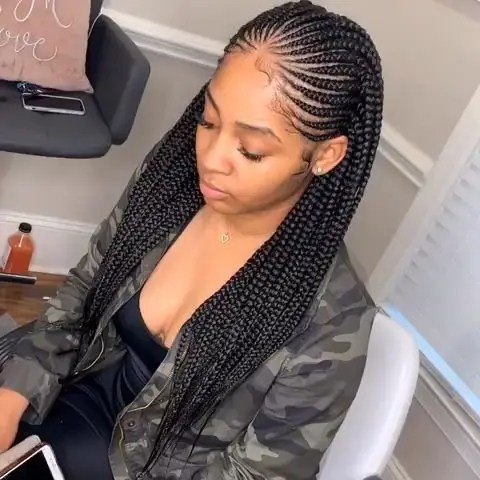 Most of us remember the popular two-step hairstyle from middle school and it has been our favorite for years.
This is one style that has been reinvented many times, but it never fails to impress us. Perfect for those looking for a style that is simple, classy and accentuates their facial features.
curly weave tribal braid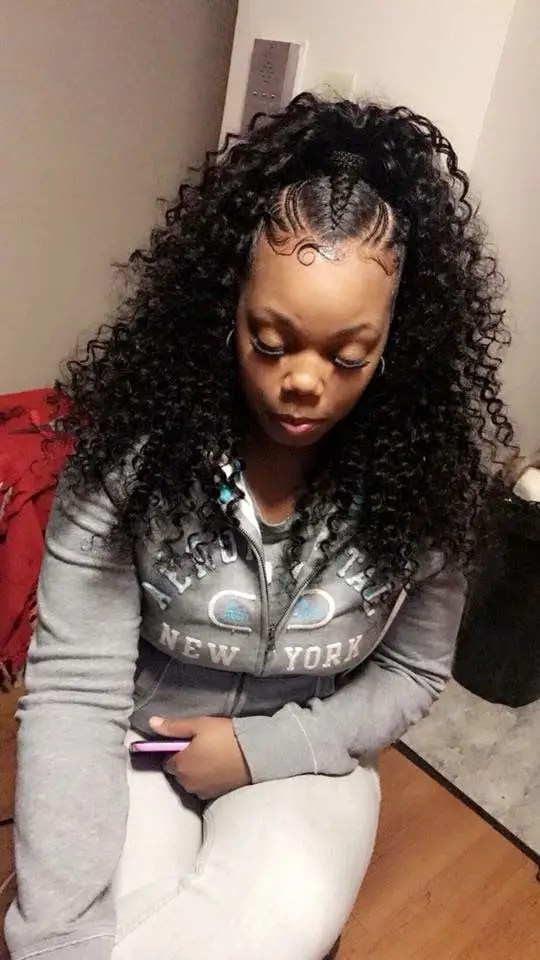 With this look, you get the best of both worlds. A neatly woven scalp combined with a loose curly weave in the back creates a natural and unique look.
Tribal feed-in blade with cord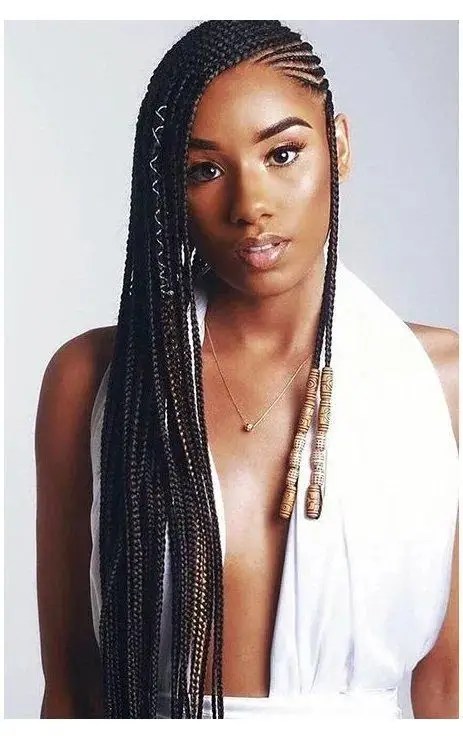 There are many ways to make braids trendy and sophisticated. This particular style uses feed-in technology and completes the look with accessories. All you need is a nice hair accessory to complement each braid.
By adding different colored braid cuffs and cords to your braids, you can be the center of attention in style.
african queen tribal braid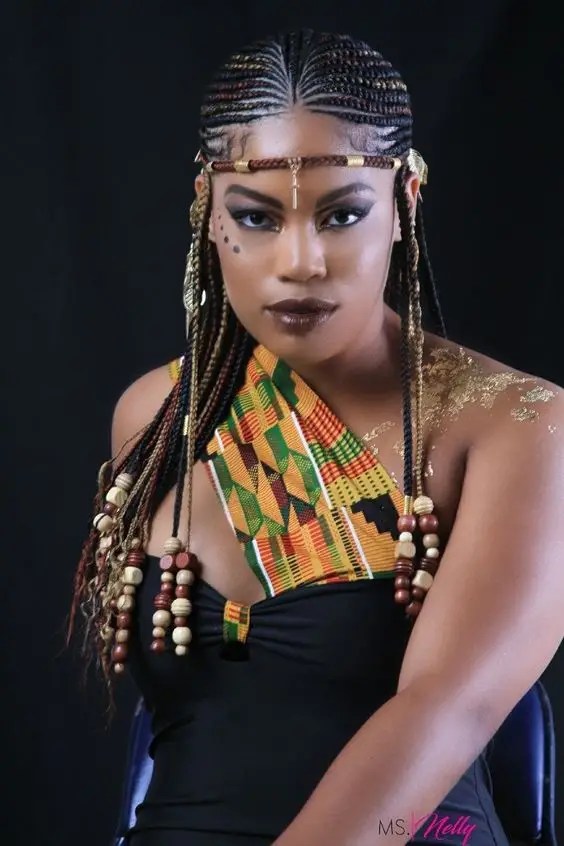 For hairstyles with African roots, you should trust gorgeous African women to rock this hairstyle stress-free
The African Queen's braids can also be adorned with beads and other accessories of your choice.
chunky curly braids
This hairstyle is gorgeous and the braids are usually thick, medium length, and curled at the roots.
Of course, you can accessorize it with beads and lock it to your desired length.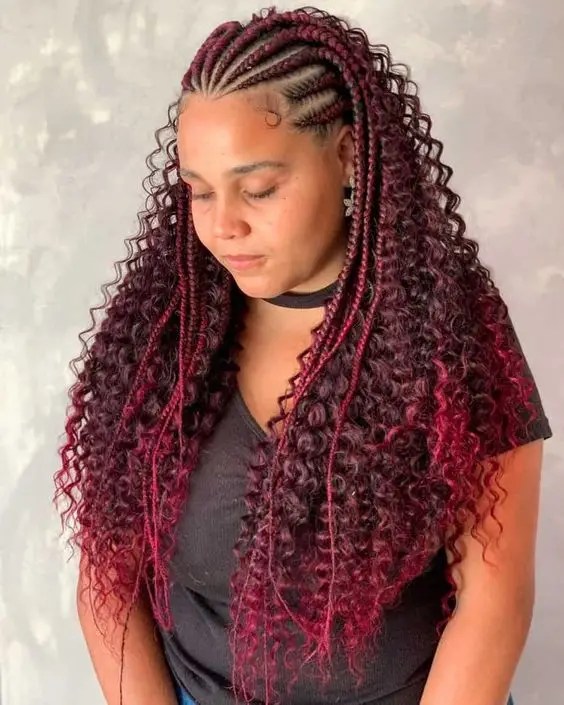 More tribal braids exist. And if what we showed doesn't satisfy your style buds, check out some tribal hairstyles for inspiration. please.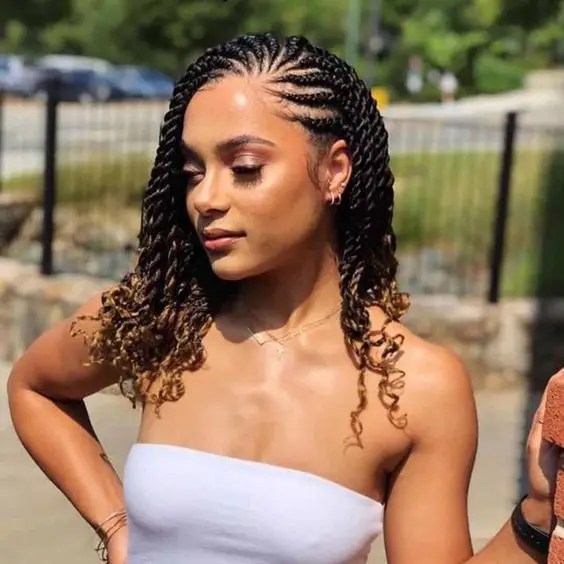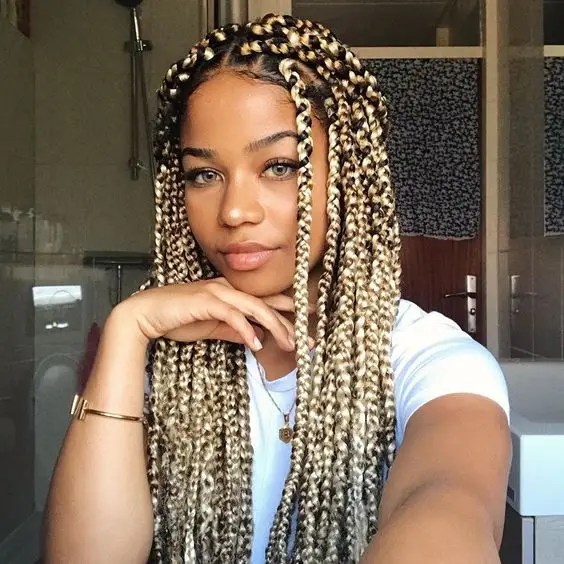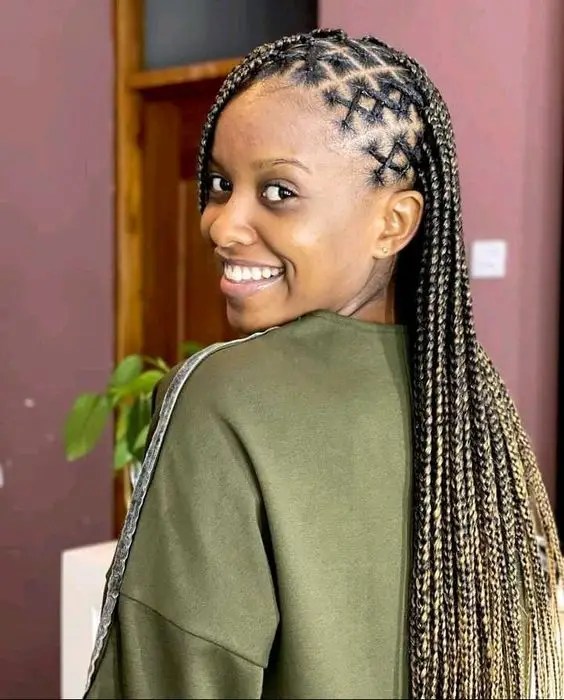 get more
Want to read more funny stories that will help you dress up better?
Subscribe to our free weekly newsletter now.
27
Related