Fashion
40 Gorgeous Long Hairstyles You Should Wear ASAP
When I was a child, I admired women with long hair. The length of hair that sways with every breeze has this mesmerizing feel. This excited me when I was a kid, and when I grew up, I always made it a point to wear long hair.
Looking back, I can't help but wonder. What's so special about those long hairstyles that little girls promised to always wear into adulthood?
Of course, any length of hair looks great. However, the versatility that comes with long hairstyles makes them all the more attractive.
These hairstyles give you plenty of room to change styles and play with colors and layers.
Whether you're looking for a new look for an event or just want to change up your hairstyle, you've come to the right place. In this guide, we'll show you cute long hairstyles that will make anyone drool when they see you.
Let's dive into them.
What is long hairstyle?
As the name suggests, this includes length hairstyles that extend beyond the shoulders to the back or waist area.
Types of long hairstyles
straight long hair
This long hairstyle is straight all the way to the back with no waves or curls. It is usually sleek and comes in any color.
wavy long hairstyles
Wavy hair is thicker than straight hair. Its texture is somewhere between her straight hair and curly hair. Strands feature an "S" shape with loose spirals that are not curly and straight.
curly hairstyles
This style resembles wavy hair. There are loose ringlets, corkscrew curls, or tight spirals that bounce.
It's a detailed hairstyle and this is perfect when you want to make a statement with your hair.
long hair style with bangs
This one has a fringe. The fringe can be light or heavy, and can be parted to show off a small portion of the forehead.
Besides? You can always add bangs to your straight, wavy or curly hair. Feel of a material does not matter. You can also layer the bangs (of different lengths) or curl them (same length) if desired.
blunt cut
A blunt cut hairstyle has no layers. Instead, the hair maintains the same length throughout.
In other words, a blunt cut is straight to the core with no ends that are longer than others.
long ponytail
Would this list be complete without the classic updo?
To achieve a long ponytail, pull some, most, or all of your hair away from your face. Then collect and hold it at the back of your head with a hair tie or clip and let it hang freely behind you.
Ponytails come in many different styles. High or low, wavy, straight, braided…
half up, half down
Half-up, half-down means that part of your hair is tied up in a ponytail and the rest is left free.
It's a great hairstyle that frames your face and adds even more deets to your look.
long african braids
African braids are cute hairstyles that are different from normal weaves. Cornrow braids, Fulani braids, Senegalese twists, Shuk hairstyles, Ghana weaves, butterfly braids and more.
You can always wear a braided long hairstyle in the length and color of your choice.
How to style long hairstyles
No need to carry your long hair one way every day. Switch using one of the following suggestions:
dye hair
If your hair has been black all along, try blonde, brunette, red, green, or a bold color that suits your style.
You can also go to Ombre or Rainbow Match.
wear hair accessories
Accessories have a way of dignifying and enhancing your look.
So when things get boring, use a scrunchie to pin your hair into a ponytail, add a hair clip, wear a hat, or use a headband to do some magic.
Sandwiched between dumplings or donuts
In addition, long hairstyles bread or donutThis allows you to keep your hair in place while still looking beautiful.
To add more detail to this style, leave a few strands of hair or let one or two braids dangle to the side.
However, if you don't want any of the above options, just…
let your long hair flow
Imagine you are standing on the beach and the wind is blowing. Imagine how your hair dances on your back and moves to your face.
Isn't it a wonderful sight to see when you're standing tall in a bikini?
If you don't want to use style tips for long hair, let it flow. Loose, free ends add a certain glamorous deet to your look. A type that can only be found in Diva.
Now that you know how to style long hair, scroll down to see more long hairstyles.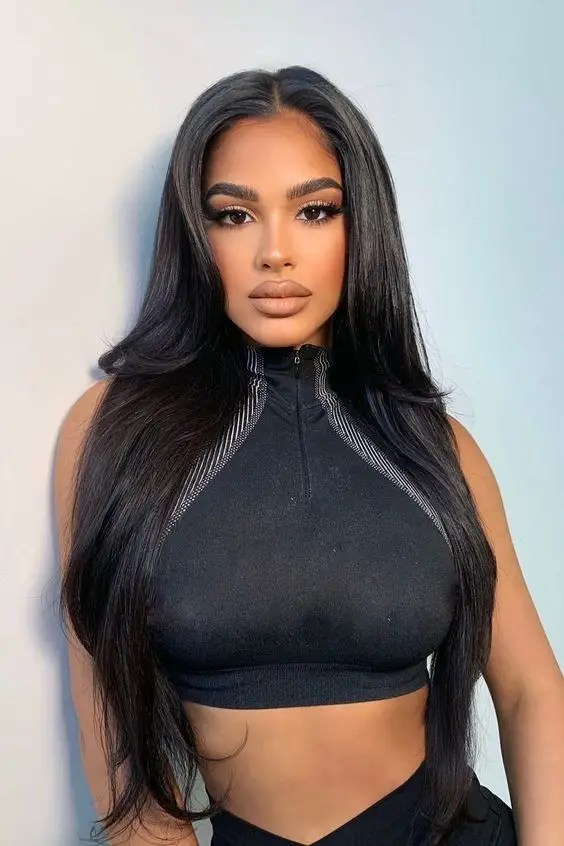 get more
Want to read more funny stories that will help you dress better?
Subscribe to our free weekly newsletter now.
Ten
Related