Born in 1971 in Porto Novo, a coastal town in Benin, West Africa. African contemporary artist. Gerald Kenham He continues to work in his studio in the capital and in the neighboring town of Cotonou, where he and other avant-garde venues have been held. guerrilla Exhibition on the street. In recent years, we have seen more and more of his works adorning the streets of Paris and London.
His work is instantly recognizable due to his unique use of discarded European dolls and their disjointed parts.Central to his sculptural installations are these Poopy He blackened it with dirt and ash and twisted and scorched the hair with a blow torch.
Combining charred and aged wood, shells, metal, wire, cloth, twine and seeds, he brings to life these traditional objects and the life history of ancestral traditions. He hopes to rewrite the story to be more human by recreating the puppets in new situations (although it looks a bit like that). voodoo style This can be a bit disconcerting when first encountered).
Having grown up with a grandmother who performed the "Twin Ceremony" and other Phong sacred ceremonies, Kweenam was fascinated by the objects she encountered in these ceremonies.
His work achieves some of the deep spirituality that is characteristic of Benin. Traditions that include having totems that can represent individuals, families, or deceased family members. The combination of old and modern has a powerful emotional charge. Gentleness and violence are mixed together… but Goenam always has sharp instincts,Fully Realized Whole'.
On the other hand, his paintings leave much to the imagination of the viewer.. Persons are stripped away, without character or detail, and the story must unfold in your own head. Markmaking is naive and repetitive, and his background has no color. Blocks of strong color dominate the focus area.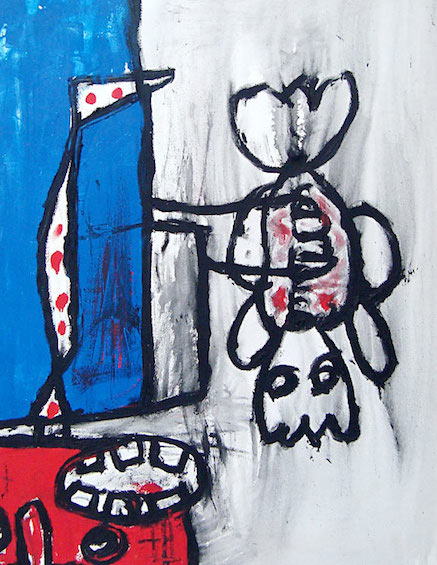 Yet these paintings also maintain a compelling and engaging energy.