Wangeki MutuB 1972, Nairobi, Kenya
Wangeki Mutu Is one of the most important and famous diaspora artists in the contemporary art scene. A microcosm of a completely contemporary and global African artist, She received countless praises and honors, including those from The Guggenheim, Germany With someone who deserved to be elected for her "Artist of the Year" in 2010, a decision that guarantees long-term impetus for her career. Smithsonian In Washington, where she elected her "Artist Onory" in 2018.
recently, Metropolitan In New York, she asked her to sculpt four statues for six months in a niche on the front façade of the museum.
Born in Africa and attending school in Wales, England, she went on to study further in the United States … (BFA at Cooper Union in New York) and MFA at Yale University. She currently lives in New York.
She is known for her Interdisciplinary practices including painting, collage, film (including animated films), sculpture, and performance art. As an activist, she incorporates the image of Africa into the following themes: Feminism, colonialism, violence, ecology, overconsumption. The female body is a theme she regularly revisits and is often associated with metamorphosis and medical parts. The images created are captivating, provocative, somewhat embarrassing, and can even look a bit grotesque.
collage
Her complex, multi-layered collage works are combined with hand-painted watercolors.
They include images torn and clipped from pornographic and medical journals, and selected body parts are reconstructed into new beings and bodies. In the process of deconstruction and reconstruction, the theme of violence is figuratively reproduced.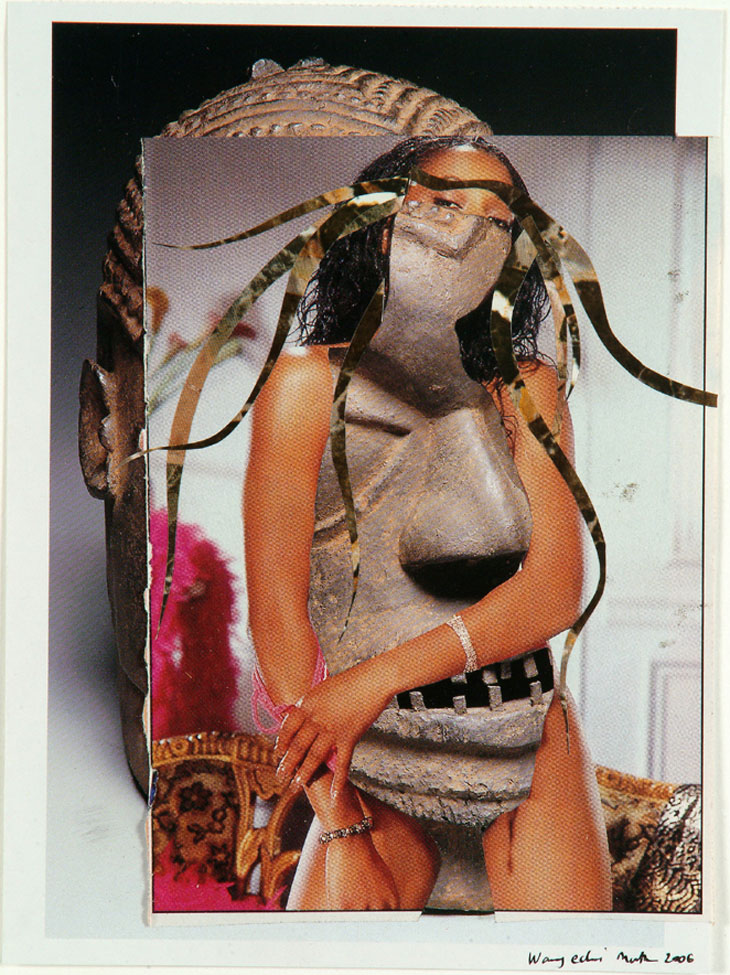 Wangechi Mutu "Mask", Collage
These exciting and highly detailed collage works are filled with her energy due to her very personal thoughts and the time-consuming process of producing the end result.
Sculpture
Mutu works with a variety of engraving media.
Her collective series, entitled "The New Oneswill free Us" for the Metropolitan Museum of Art in New York, is made in bronze, is about 7 feet high and weighs over 840 pounds each. Individually entitled "The Seated I, II, III and IV", they are wearing coiled clothing, somewhere in their heads, referring to the lip plates and coil jewelry worn by African tribes. Equipped with a polished disc.They also pay homage to CaryatidA female figure carved from wood or marble and used as a metaphysical support for the structure of the building.
Mutu himself talks about her appearance "They seem to have a role and responsibility. They witnessed, witnessed, and began to look back at us what we were.
The "waterwoman" executed in bronze is a mythical figure, some nymphs and some fish. The beautifully transforming statue reflects her personal and ethnographic influences.
Otherwise, Mutu worked in terracotta soil and found fragments of driftwood, stones, rocks and minerals incorporated into her more organic sculptures. By using her Kenyan volcanic red soil, she was able to let go of some of her material and enjoy a simpler conversation with her material.
Above you can see red soil, pulp and paper, wood glue, rocks, acrylic shoes, and carvings made of wood.
---