Bogolan in Mali is one of the most famous and distinctive handmade African textiles in the world. From cream and ocher to black / brown or indigo blue, this fabric is surprisingly dramatic with its powerful contrasting tones and has many uses and uses.
More rRecently, it has been accepted as a symbol of Mali's cultural identity.
Called Bogolanfini (Bambara) or Bogolan (modern term for modern fabrics), this textile is a hand-made Marian cotton fabric dyed with traditionally fermented mud in a painstaking, long and complex process. I've been. The fabrics were traditionally made by the Bamako tribes, who live in the east and west of Bamako, but the best fabrics come from the Beredougo region, which is believed to have originated in the 12th century.
The center of production is Sun, where the highest quality fabrics are woven by men into thin fabrics and sewn and dyed by women in the town. The decoration is done by either men or women and can take several weeks to complete the entire process. In general, six hand-woven plain weave bands are sewn from selvedge to selvedge, Bogaran Fini Cloth (5 if there is a border).
This cloth was a major element of life. Often incorporated into milestones and sacred events. Historically worn by tribal women as a wrap-around item for apparel such as skirts and shawls, this item captures important transitional events such as post-excision, pre-marriage, childbirth, and finally a burial cover. It meant.
It was also worn by men as a hunting tunic or shirt like the historic items above. In desert areas, these tunics can be dyed red as camouflage. Amulets and leather accessories are also worn for good luck.
History of Bogolan cloth
Bogolan Fini Its etymology is Bambala, the language spoken by the Bamana tribe of Mali, and is derived from three words.logo"Mud / soil"lan'Meaning by'fini'Mean cloth. In its ancient tradition, the fragile and perishable nature of fabric means that it is virtually impossible to trace its origin.
However, many beautiful antique examples of mud can be found in museums around the world. This cloth below is in the British Museum and is worn by a woman after excision and during the final ceremony, after which the girl goes to her husband's village.
The design is aligned according to the end use (horizontal, vertical, border). Design goes beyond aesthetics traditionally based on cultural symbols and patterns, and is full of meaning to refer to animals, religions, cultural and historical events, tribal stories and myths.
Due to the unique message of each cloth and the hand-rendered process, no two cloths can be the same. There are so many different aspects to the technology that makes this textile.
As many African countries gained independence, the public's pride in traditional crafts increased significantly. The social and political development of the United States has sparked an interest in African textiles and a cultural identity that "returns to its roots."
The popularity of these textiles also spread to fashion, and in 1979 young Mari designer Chris Saidu (African fashion father)It contains Bogolan Wrapped in his collection in Paris. Since then, factories and commercial ventures have begun to be established in Mali, and these fabrics have been produced on a large scale for more material use.
Bogolan Fini manufacturing process
Spinning, weaving and sewing vary by gender. Women spin locally grown cotton spun yarn by hand, and men use their double-held looms to weave undyed yarn into long, thin strips. Then sew the strips from selvedge to selvedge to create a large cloth that can be used for men's and women's clothing.
This end result is called finimougou It is used to be pre-washed and shrunk for use in the uncolored state, or to be dyed in a characteristic elaborate process. Bogaran Fini..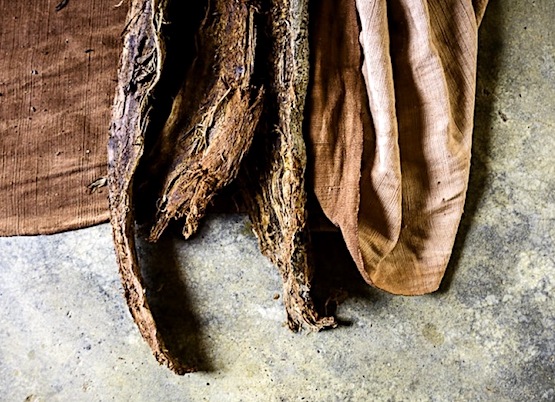 The roots of Bogolanfini dyeing, West Africa
This dough is soaked in a brown liquid colored by the leaves n'garama A tree that gives the cloth a unique strong yellow base.
Yellow does not appear in the finished product, but it contributes significantly to the process and acts as a fixative for the coming colors … Tea tannic acid combines with iron oxide in the mud to create the familiar dark brown. Masu / associated black background color Bogolan Fini..
Once the cloth is dry, draw a pattern on the cloth with a pointed iron spatula, stick, or quill and cover the negative space with fermented mud until gray.
The design will be bright (yellow) against a dark background. Then, when the mud dries, wash it off and repeat this process over and over until you get the desired tone depth in the background.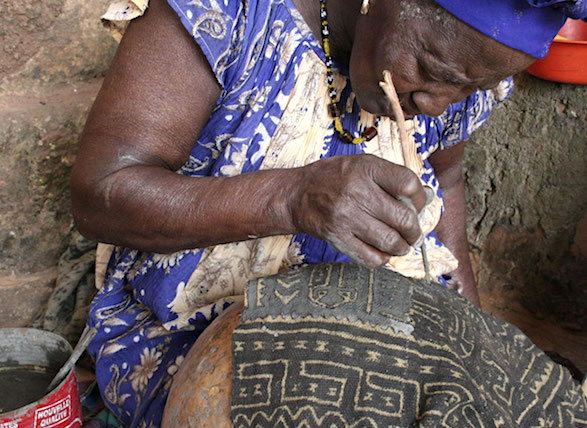 Repeat the process of painting with mud
Some tribes prefer terracotta or red tones, and women use a mixture of different leaves, roots and bark to get orange tones from the rich, charred land.
Then bleach the remaining yellow areas to restore the fabric to its original undyed color. These areas are painted with substances made of peanuts, caustic soda, millet bran, and water, and these areas turn light brown. When washed away after a week or so, the former yellow design turns bleached white, a dramatic contrast to dark ground.
The modern version of African mud involves a completely different type of process. The cloth is dyed with a solution of leaves and bark from the M'Peku tree, creating a deep russet shade.
Black and white designs can be painted on top, and stencils may be used for mud and paint patterns.
In this cloth below, the dark tannins that create the brown / black dye in the background have been replaced with indigo dye. The same bleaching process happens to create a light design.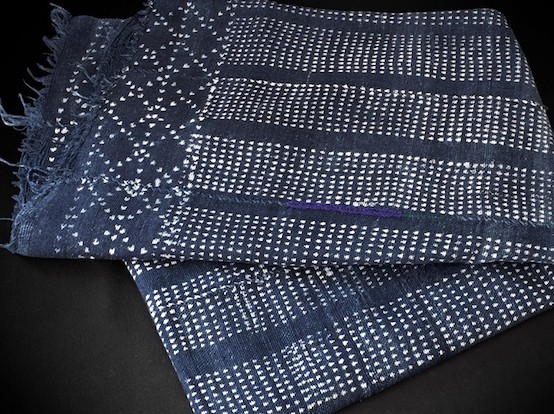 Vintage indigo bogolan mud cloth, dogon
The meaning of Bogolan Fini, its symbols, patterns,
colour
There are symbolic words in these designs, and the meaning of these symbols is strictly protected by tribal women. This knowledge gives them a reputation in their society. The design aims to infuse the traits of magic and healing and give them their own vitality. Niyama Has the power of sacred protection.
Some women have their own formulas, using different plant species to make up the dyes used. Essentially white, red (terracotta), black.

White Bogolan Fini It is related to both death and purity. The bride wears these wraps during the wedding, but white is also used as a shroud for both genders.
red Bogolan Fini

Me

Worn by young women during excision and subsequent quarantine.

black Bogolan Fini

Me

s The most common color cloth and is used for more common wear.
Bogolan Fini It is a very characteristic textile and the flavor is very "African". Strong geometric or natural patterns, ocher, terracotta, charcoal and other earth tones, thick and durable hand-woven cotton fabric sewn with hand-tied seams … it's heritage, culture and tradition. Tells the story.
The symbols used in these beautiful fabric designs can be interpreted according to the knowledge that has been passed down from mother to daughter for generations. The main ones can be seen in the chart below, but there are many more, and over time, sometimes new ones are introduced just for aesthetics.
These charts Pehlwani… they have a great page Mali mud cloth
Cultural tourism has become a pillar of many communities selling or manufacturing Bogolan fabrics since the mid-2000s when UNESCO declared many new cultural places in Mali.
Modern Bogolan
Recently, Bogolan cloth has been widely exported from Mali and used in fashion, upholstery, interior and decoration. In terms of design and color, the fabric has a wide range of charms and fits many applications in the home decor and fashion world.
Of course, genuine traditional versions are still in production, and there is growing concern about how the demand for more commercial versions will affect the future of production of these traditional fabrics. Especially because the number of knowledgeable tribes is declining. On the other hand, opening up the process to accommodate a wider market has a significant impact on the spread of fabric valuation and makes heritage more relevant to today's society.
Decoration-
Bogolan Cutter Cushion
Scatter cushions, throws, table linen, bedspreads, upholstery … Bogolan cloth can be applied to many decorative options. Undyed ground with a less complex and repetitive pattern of monoprints is especially attractive for the more modern look of upholstery and bed throws. Natural hand-sewn seams are still widespread, giving them some degree of reliability that modern consumers prefer.
Hand-printed modern Bogolan fabrics have little in common with traditional ones. Bogolan Fini However, Morrissey fabric textiles like the one above have all the attractive qualities of the original. Simple design features in complex combinations.
fashion –
Chris Seydou of Mali (1949-1994), believed to be the founder of African design Bogaran Fini He participated in the catwalk in the 80's and early 90's, but had to redesign the pattern into a repeating shape to suit his outfit.
This was the beginning of the fabric simplification in Abidjan, Côte d'Ivoire in 1981. He first commissioned the hand-printed fabric and then introduced a factory that could produce what he needed to make his signature cropped jackets, miniskirts, hats and coats. Seen below …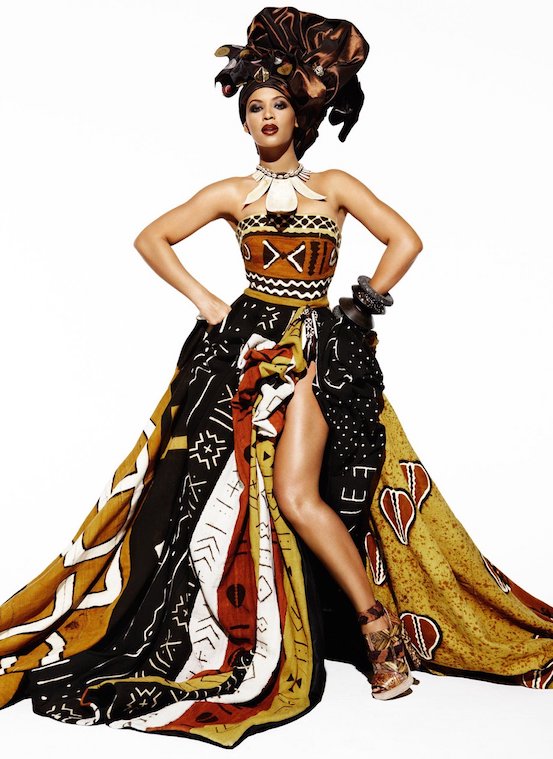 Nowadays, even larger repeating patterns and even the latest interpretations of printed patterns are used in a much more flashy way. Often used in the manufacture of ethnic style handbags, luggage, jackets and many other apparel products.
Bogolan's design and print are perfect for handbags … When mixed with leather as below, this is a very attractive and durable classic fashion item.

Contemporary art using Bogolan cloth as an inspiration
The Bogolan Casobane Group
Six artists, Bamako, who recently graduated from the National Institute of Arts, formed this group in 1978. It still exists as the same member, but because of one person (Kandioura Coulibaly) who died in 2015. Their latest member is the female Nene Thiam.
Their common goal was to innovate and promote the techniques for making Bogolan fabrics in Mali and the world. Not only do they exhibit around the world and promote their contemporary work, Bogaran Fini. Their work is meaningfully layered, allowing the basic materials used in crafting to be modern and important.
They also joined Bogolan Traditional, long garment fabric with wide sleeves known as BouboubouWorn by Mali men …. usually embroidered, given a very different take here … a refinement of tradition to preserve their heritage.
They also make costumes and sets for theaters and movies.